Idle Vampire: Twilight School is a classic Idle Tycoon mobile game that puts players in the shoes of a vampire headmaster. The game gives you the possibility to construct and manage your own school and nurture students into becoming powerful vampires.
In this Idle Vampire: Twilight School guide we explain all the basics of the game and provide helpful tips on how to become a successful headmaster as well as strategies to increase your vampire wealth.
Idle Vampire Twilight School Guide: Tips and Tricks
How to play Idle Vampire: Twilight School
Idle Vampire: Twilight School features a nice blend of management, simulation, and tycoon elements, which reminds me of Cat Snack Bar. As the headmaster of your own vampire school, you'll be in charge of constructing classrooms, setting up various courses, and managing student life.
Your main goals in the game are to attract visitors, convert them at the Embrace Room, and transform them into vampires at the Advance Altar.
To do this, you need to build a strong foundation by unlocking and upgrading various rooms. This leads to the next important step, which is managing and farming the game's primary resources.
The game's primary currencies and their uses
To progress and increase your profit in Idle Vampire: Twilight School you will have to constantly upgrade your existing rooms and unlock new ones that will help you attract more visitors and vampires. The game uses three main currencies (Gold, Diamonds, and Vampire Glory) for building and upgrades. Here is an overview of each currency:
Gold: This is the most common currency in Idle Vampire, and is used on the majority of room upgrades. This is automatically generated in the school, depending on your current progress, and can be increased by expanding the school.
Diamonds: The premium currency of Idle Vampire: Twilight School which can be used to purchase special items or upgrade the vampire ancestral of each room.
Vampire Glory: This is more like a school level rather than a currency, as you need to collect enough vampire glory from your school's activities in order to unlock new rooms, additional features, or new schools. You can earn it by performing upgrades.
Follow the quest line for a quick progress
The game offers an interesting questline that is designed to help new players learn the basic mechanics of Idle Vampire: Twilight School. Completing these quests is an easy way to progress and learn the basics of the game. You can access the questline by tapping the paper scroll icon in the bottom left corner of your screen.
One thing we did not like much about these quests is that although they offer Gold for the first few tasks, the rewards are soon switched to Diamonds only, which kind of delays the progress a bit since Gold is more needed for upgrades than Diamonds. Nevertheless, we still recommend following the quest line instead of randomly upgrading things, at least in the beginning.
Double and extend your offline profits
Is nice to see that Idle Vampire: Twilight School also features an automatically-generated reward while we are away. Unfortunately, the 2-hour duration is quite short when compared with other similar games such as Unknown Knights which offers a 10-hour accumulation period. Luckily, you can double the gold reward by pressing the 2x button and watching a short ad clip.
You can also hire a manager vampire like Burke Aaron if you want to extend the 2-hour duration to 10 hours permanently, but this is a premium option and honestly a quite expensive one for what it offers.
Focus on upgrading things that matter most
As tempting as it may be to upgrade every single room in the school, we recommend focusing on upgrading those that actually matter. Of course, in the early stages of the game you will have no choice but to perform the upgrades required by the quest line to accumulate more Gold.
But once you have enough of it, focus your efforts on upgrading the items that offer you the most Vampire Glory. This includes upgrading the Dormitory by adding more beds, unlocking more features in it, and unlocking more seats in any other rooms.
Keep unlocking Ancestor Power skills
In addition to room upgrades, this game also offers Ancestor Power Skills that can help you increase your Vampire wealth and progress much faster. These can be accessed by tapping the big potion button in the lower-right corner of your screen.
Each of these skills offers bonuses like increased registration fees for your visitors (which means that you can earn more gold), faster movement speed, increased learning success rate or Ancestor Soul production, and many more.
To unlock and upgrade these skills, you need to collect enough Ancestral Soul potions. You can get Ancestral Soul potions by tapping the Ancestor statue located in front of the school as seen in the above screenshot. By default, this statue will generate a small number of potions but the more you increase its level the more Ancestral Soul it will generate.
Attracting more vampire candidates
Another excellent way to progress quickly in Idle Vampire: Twilight School is by attracting new vampire candidates. This can be done via the School Management tab, which can be accessed by tapping the speaker icon located at the entrance of the school, or by tapping the second icon in the upper-right corner and visiting the Admissions tab.
There you will find 2 methods to attract more visitors: increasing the Advertising level located at the top, or starting one of the 4 marketing campaigns located at the bottom (Leaflet, Radio, TV, or Internet).
Each of these campaigns runs between 5 and 20 minutes and costs Gold. The most effective one is the internet method, which increases the visitors' incoming number by 35% and luckily is free (requires watching a short ad clip).
Search for extra rewards outside the castle school
Another great tip for Idle Vampire: Twilight School is to keep an eye on things happening outside the castle school. Scattered around the map, you will find various rewards that can be collected by tapping them.
These rewards can be identified as shovel or sword icons, but can also be a glowing magic item hanging in a tree, so make sure to look around and grab them whenever you can. You will be rewarded with Gold, Diamonds, Ancestral Soul potions and even rare vampire items.
Keep an eye on the School Management page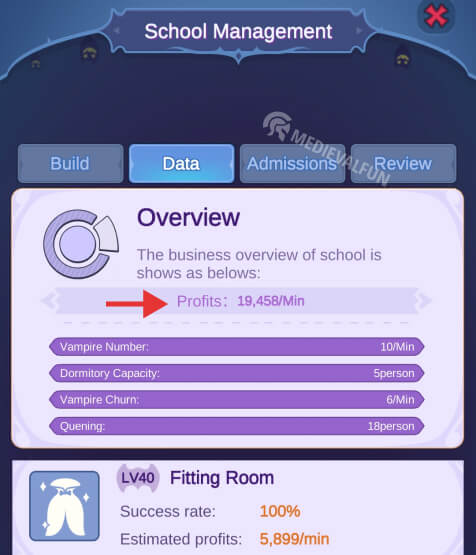 The School Management page is the place to go to have an overview of how your school is doing. The page has 4 tabs to help you keep track of your progress: Build, Data, Admissions, and Review.
The Build tab shows you information about all the rooms of your current vampire school and all other features and new rooms you can unlock.
The Data tab is where you can see how many vampires have signed up, the dormitory capacity, the success rate of each room and its estimated profits. This way you can easily spot which rooms are performing better and which ones need more attention.
The Admissions tab includes the advertising methods we covered above, while the Reviews tab allows you to collect reviews from your visitors; low reviews will affect the Admissions. That being said make sure to check the School Management page regularly to see how your school is doing and make adjustments if necessary.
Take advantage of bubble offers
Every once in a while Idle Vampire: Twilight School will offer you special offers that can be accessed by tapping the bubbles displayed on the upper right side of your screen. They will offer a nice amount of gold by watching video ads, so make sure to take advantage of them whenever they show up.
For instance, the Enroll Vampires offer includes 29,407 gold, while the Transfer includes 49,012 gold. The amounts may vary for you, depending on how far you progressed in the game, but is definitely something to consider if you need more gold for your upgrades.
Final Thoughts
These are some of the important tips you need to keep in mind while playing Idle Vampire: Twilight School. Following these steps, you will be well on your way to becoming an amazing vampire schoolmaster!