Survivor.io is an exciting new RPG, roguelike mobile game that features a thrilling battle against thousands of zombies that are threatening the city! With one-hand controls and an infinite combination of skills, you must fight to save the city from these dangerous monsters. You will have to clear different Chapters of increasing difficulty, each one having its unique types of enemies and tough bosses.
To help you start the game like a pro, we have prepared this beginner's guide to Survival.io, with all the strategies, tips, and tricks you need to succeed and advance faster!
Survivor.io Guide – Tips and Tricks
Understanding the essential items
As you progress through the game, you will find or buy various items that can help you survive longer and defeat enemies more efficiently. You should pay close attention to your inventory and make sure you always have enough Energy, Gold, and Gems to upgrade your equipment or your character.
Here are a few more details about the three most essential items you need in the game:
Gold – this currency is used to upgrade the equipment and your character. You can get it by clearing chapters, chapter chests, and free deals after watching short ad clips.
Gems – these are more of a premium currency in Survival.io and you don't get them that often. You can get Gems from the shop, by clearing chapters, or by participating in special events. These can be used to buy Gold in the in-game shop or open equipment chests.
Energy – every time you start a new battle, you will consume a certain amount of energy. When you're out of energy, you won't be able to battle until it is replenished, which happens over time automatically. You can also buy energy with Gems, or receive Energy gifts from your friends (more details below).
Customize your in-game profile
Customizing your profile in Survivor.io can add a bit of fun and originality. It also adds more challenging tasks such as unlocking new avatars or avatar frames, which can make the game more enjoyable for you. You can also customize your in-game profile by changing the default name, which is free the first time you do it.
You can keep the default nickname if you prefer, but having a generic, random name like "player-0983yy47" is not something you might want, especially if you intend to share your progress with friends. Having a personalized profile might also help you make more friends in the "My Friends" feature.
Pick the most efficient Skills
Another way to succeed in clearing chapters is to pick the best Survival.io Skills for your character. As you noticed, each defeated enemy drops a crystal. The more crystals you collect in a shorter period, the faster the XP bar will be filled. Once it's full, your XP level increases for that battle, which will offer you the opportunity to choose one of the 3 skills.
These skills are the most deciding factor in your survival, so make sure you check their description and pick the ones that best suit your needs and playing style.
Their effects can include increased attack power or HP for your character, various weapons like drones and lasers, and rockets, protective shields, or skills that will help you gather more gold and better rewards at the end of the battle. Some skills can also help you build and evolve some of the best Survivor.io weapons and armor, and become an unstoppable force.
The skills we found to be the most effective or the drones such as Type-A and Type-B drones, and those similar to Forcefield, which can generate a protective shield around you and destroy any enemies that come in contact with it. If you see these, don't hesitate to select them as many times as possible to increase their range and attack power.
Use dropped items strategically
During the battle, you will come across various items that you can use to increase your chance of success. While some items like Gold and crystals should be collected without fail, other items like magnets, black smiley mines, and even chunks of meat, should be used strategically.
For instance, the magnets are better used after defeating enough zombies and accumulating enough crystals around you. This way you will draw all the scattered crystals instantly, and get a lot more experience points, which will result in more skill pop-ups.
Similarly, the smiley mines should also be used in large groups of enemies, preferably during zombie alerts. That way you can destroy the entire horde with a single move.
Add at least 10 friends and try the Co-op mode
While the description of Survivor.io on Google Play says it's a single-player game, this is not totally true. Recently a new Co-op mode has been released, which allows us to join forces with another friend and fight together against the zombies.
The Local Co-op mode is located under the Trials tab. To access it, you and your friend must have the second chapter cleared. Your friend must also have the same game version installed and be connected to the same Wi-fi network.
There is also another feature called "My Friends", which becomes available after clearing the first chapter. This gives you the opportunity to add up to 20 friends to your list. While you can't play with them in multiplayer mode, this feature allows you to get and send up to 10 Energy gifts per day. This can be really helpful if you have no energy left and want to keep playing.
Always open equipment chests in bulk
While buying equipment chests individually might be tempting, considering the lower price, it is not the most efficient way of getting Excellent or S-quality equipment for your character. Instead, you should wait until you have enough Gems to open 10 equipment chests.
This will offer a guaranteed drop of at least one Excellent piece of equipment. Additionally, for every 50 S-grade chests you open, you will get a random Legendary item, so make sure you save up your Gems for that. You can open equipment chests in the in-game shop.
Claim your Chapter Chests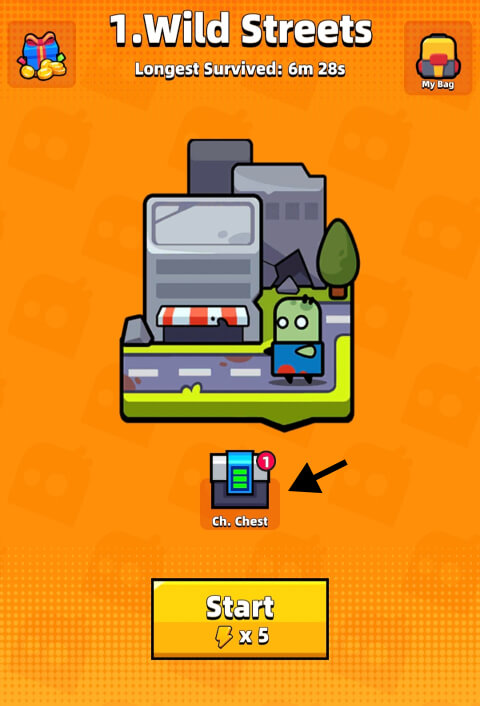 The Battle page, the area where you can start a new battle, also features Chapter Chests. You can open them by claiming the chest rewards for completing different missions such as surviving for 5, or 10 minutes, or clearing a specific chapter.
The rewards include Gold and equipment items and can be claimed after completing the mission. So make sure you check this page regularly and claim your rewards.
Keep moving to succeed
Surviving as long as possible is crucial for your success in Survival.io, and it's not that hard if you keep moving and avoid enemy hordes, especially when you get the Zombie alerts. Another useful tip is to pick the Skills that can increase your speed.
While the first two waves of zombies might be easy to defeat, there are some that constantly shoot projectiles. That's why is important to keep moving, even if you have a great Skill such as the Forcefield. This skill will create a protective shield around you but won't stop the projectiles.
Merge and upgrade your equipment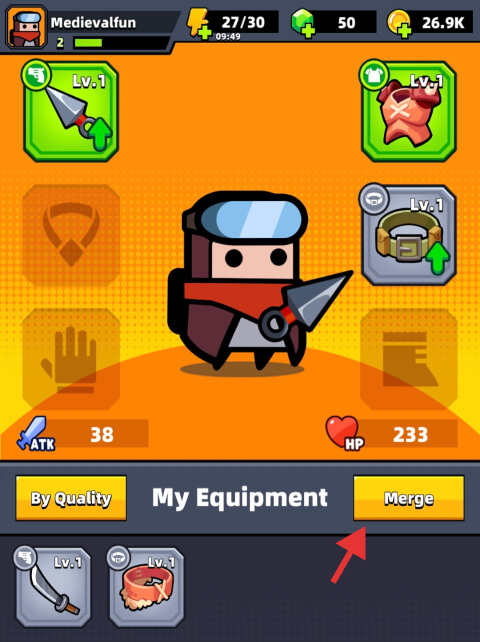 Similar to the chosen Skills in battle, merging and upgrading your equipment pieces is also essential in surviving longer in battles. Each time you merge a type of equipment such as a weapon, belt, or chest armor, the quality of the item increases, and it becomes more powerful with better stats and new abilities.
You can merge an equipment item as long as you have the 3 pieces of the same type and quality. Once you have that, visit the Equipment page, hit Merge, and select the equipment you want to upgrade.
Similarly, increasing the level of your equipment will also make your character more powerful because each level-up increases the stats of the equipment and gives it a better chance of surviving in battles.
To increase your item's level, you need Gold, and Designs, special items that drop from Bosses, and clearing stages in general. Once you have these requirements, tap the item you want to upgrade, and press "Level Up".
The great thing about leveling up your equipment is that you can also level them down, which allows you to recover the Gold and Designs you've used to upgrade the item initially.
Get your Shop freebies
The Shop page is the way to go if you want to spend a few bucks to get some additional content and rewards in the game. But if you rather prefer to have your rewards for free, you can take advantage of the free items on this page as well. At the top of the Shop page, you can open two chests for free, after watching two short video ads.
The first free reward is the Army Crate chest, which can drop Normal or Good quality equipment. This can be done once a day. The second chest is the one next to it, called EDF Supplies. It can offer you a Good, Better, or Excellent piece of equipment. This free reward can be obtained once every 4 days.
Furthermore, at the bottom of the page, you also have 6,000 free Gold that you can collect. The first time is automatically collected, and you can get a second time by watching a short video. Make sure to take advantage of all these freebies and check the Shop page every day for new deals.
Evolve your character constantly
The Evolve page gives you access to a series of incredible stat upgrades and bonuses that will help your character survive longer in battles. By evolving your character, you can increase his HP, attack power, speed, armor, the percentage of healing received from meat items during battle, and much more.
Each upgrade in the evolution tree will cost you a certain amount of Gold and you are limited to a certain number of upgrades for each Adventure level. This means that you cannot go wild and spend all your Gold on this section one time.
To unlock more Evolve upgrades, you need to complete more chapters or try to clear them as you get XP even if you fail. The Adventure level is displayed below your avatar.
Adjust the settings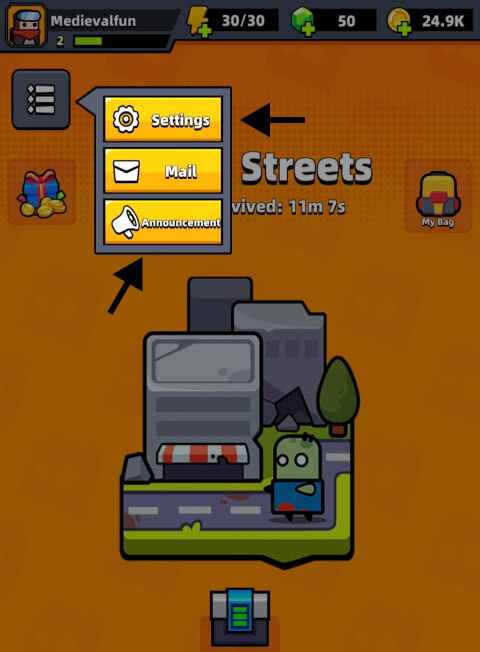 If you want to improve your gaming experience, you might consider visiting the Settings menu. Here you can increase or decrease the graphics quality, turn the music on or off, change the language, hide or show the on-screen joystick, and so on.
Another useful feature on this page is the "Fix Errors" button, which might help you solve some common problems with the game. All you have to do is to press the button, confirm, and the game will restart.
To access the Settings menu, which I'm sure you expected to be under the profile/avatar page (I know I did) you need to visit the Battle page, and hit the squared button on the top-left corner.
Stay informed
Survivor.io constantly adds new content, updates, and sometimes, even free rewards. Therefore, it's important to stay informed about all the changes and events in the game.
One way of doing this is by visiting the Announcements page, which is located under the same menu where the Settings page is. Additionally, you might also consider following Survival.io on social media, as they often organize new special events and challenges.
Survivor.io Guide and Tips FAQ
Why I can't unlock Evolve upgrades in Survivor.io?
You cannot continue unlocking new Evolve upgrades because you have already unlocked all the upgrades available to your Adventure Level. More will become available once you increase your Adventure Level.
Is Survivor.io a pay to win game?
If you don't have the patience to evolve your character progressively, then yes, Survivor.io can be a pay-to-win game. However, there are numerous activities that reward you handsomely without spending a dime. And we already covered most of them in this guide.
What is the purpose of making friends in Survivor.io?
Having friends in Survivor.io will offer you free Energy gifts daily, and you can get up to 10 gifts a day.
Why the Local Co-op mode is not working in Survivor.io?
Make sure that both, you and your friend, are connected to the same Hotspot or Wi-fi Network, and that you both have the same version of the game.
Final Thoughts
This concludes our Survivor.io guide and our list of tips and tricks for new players. I hope you found this guide useful and that you learned something new about the game. Farm as much gold as possible and save your Gems for opening the best gear possible for your character, but more importantly, have fun and enjoy the game! Good luck on the battlefield!