Smithing Master is a medieval RPG, turn-based adventure game where you play as a legendary smithing master who is out to restore order to a fantasy world. You must forge and upgrade equipment, collect pets with special skills to help you in your quests, and face challenges, world bosses, and more.
This guide will provide you with the tips and tricks you need in order to become a true master smith.
Smithing Master Guide and Tips
Smithing Master Gameplay Overview
Smithing Master is a simple, yet strategic turn-based game, where every move and upgrade you make is essential to overcome your enemies. Although the game features several different game modes, your priority in this game should be forging equipment continuously.
Each time you craft a piece of equipment such as gloves, shoulders, weapon, helmet, and so on, you consume 1 Mithril. You then have the option to keep the forged item if is more powerful than what you already have equipped, or sell it for coins.
Crafting items will also increase your player level, which is represented by the orange bar in the middle of the screen. The more you increase this level, the more features and game modes become available, such as pets, a guild system, and dungeons.
Setting up your account and profile
After starting the game, you can customize your profile by picking an avatar and entering a username. This will make things easier later when you decide to join a guild.
This is an important part of the game since it helps you build relationships with other players because having a random generic name will probably get you kicked or not accepted in any guild. Unfortunately, there is no option to link the account to Google or other methods.
Understanding the in-game resources and currencies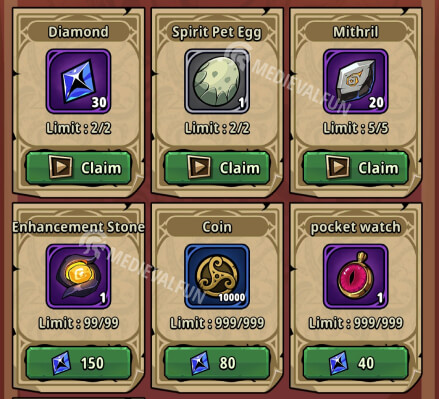 Smithing Master offers several in-game resources and currencies that you will need throughout the game. Mithril is your main crafting material, but there are others as well such as:
Diamonds – this is the game's premium currency that can be used to purchase various in-game items. You can get it from daily rewards, events, and shop
Coins – this is the second most important currency in Smithing Master as it is required for most upgrades
Mithril – a rare item required for forging equipment.
Pocket Watch – this item can speed up the required time for upgrading Forging Avil. You can get these by clearing Adventure stages.
Void Pupil – special currency that you can use to purchase artifacts
Artifact Essence – required item for upgrading artifacts
Enhancement Stone – required item to enhance equipment
Spirit Pet Eggs – mysterious eggs that give random Spirit Pets
Origin Stone – a precious stone from ancient times. Used to refine Secret Stones
Plume – a special item used to enhance Wings. Can be obtained from Arena rewards and Shop offers.
Mastering the combat system
As I mentioned, the game features an automatic turn-based combat system. It is very straightforward, you don't have any skill to press, or action buttons, the character will attack automatically.
However, there are two things you can do to speed up the process and make sure your character is as effective as possible:
Make sure to equip the best gear available so your attacks are stronger.
Enhance and develop your equipment and Wings
Increase the speed of the fight by up to 3x (see the first image)
Later on, you can even skip the fight animation, make sure you use this button as well
How to get better equipment?
Since the main scope of this game is clearing as many Adventure stages as possible, as well as defeating bosses and other players in the arena, it is important to have the best equipment available.
The easiest way to get better equipment in Smithing Master is by upgrading the Forging Avil. This will increase your chances for certain rarities and give you access to new ones as well.
As you can see in the second screenshot above, my Forging Avil is currently level 5 and unfortunately, I have zero chances to get a Mythical item or above. But the more I upgrade it, the more chances I will have to get better equipment.
Upgrading the Avil requires coins and time. But you can decrease the wait time by watching a short video ad or by using your Pocket Watch items. So keep on forging equipment and upgrading your Avil, it is the only way to get better items faster.
Check for unclaimed rewards
It is also important to always keep an eye out for unclaimed rewards so you can get some extra coins and precious items. You can start by checking your in-game mailbox, which is located at the top right of the main screen.
Press the mail icon and hit "Claim All" at the bottom so you can collect all the rewards at once. Next, visit the game's shop as there are a few daily freebies there as well. Some of them may require watching a short ad, but it is worth it if you need those items.
Finally, keep an eye out for game events. They usually come with super rewards so make sure to take part in them and save up coins if possible.
Enhancing equipment is not always the best option
This is a mistake that most new players do in Smithing Master, as I did when I was starting out. You might think that spending coins or materials to enhance your already strong equipment is the best use of resources, but this isn't always true.
In some cases, it is better to save your Enhancement Stones and keep forging new equipment. That's because as you continue crafting gear and increase your drop rate for better equipment (more details below), the dropped items most likely have better stats than what you have previously equipped, even if the equipped item has a better rarity.
Yes, you should enhance some items, as you progress in the game, especially those above Legendary rarity or above, but not in the early stages.
The best equipment in Smithing Master is the Peerless rarity. You can get this type of equipment by increasing the level of Forging Avil and continuously forging new equipment.
Make the most of the auto-forging feature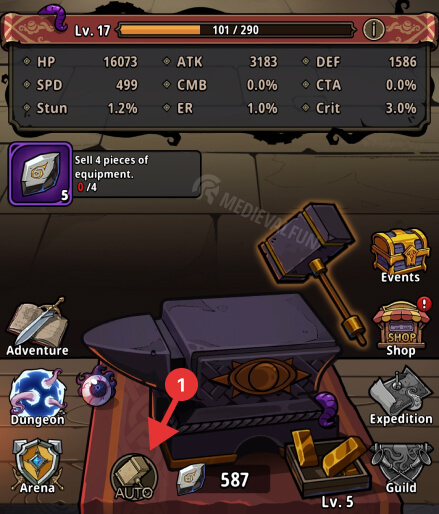 Forging new equipment can become a bit overwhelming after a while, but luckily Smithing Master has an auto-forging feature that allows you to speed up the process. This is great if you want to get stronger quickly but don't have enough time to manually sell all the poor-quality items.
To use the auto-forging, you need to upgrade your Character Level to 15. Once you do that, there are a few things you need to know:
The auto mode is not entirely automatic because you still need to tap the items that have better stats and decide whether you equip or sell them
The same as with the manual mode, each forged item consumes 1 Mithril. Make sure you chose a rarity with a decent drop chance or you may end up consuming all your Mithril without getting any items.
Select your desired rarity of equipment before pressing the "Start" button (see the second image).
Consistency is the key to success
Smithing Master is a game of progress and the road to becoming a legendary smith requires work. You need to forge equipment, upgrade your Forging Avil, collect pets, participate in events, and much more.
Speaking of this, there is a 7-day login reward located under the Events page, where you get a free item if you log in every day for a week. So make sure you don't forget this bonus!
---
Smithing Master Guide FAQ
How to get spirit pets in Smithing Master?
You can get and use pets in Smithing Master after reaching character level 20.
How many equipment rarities are in Smithing Master?
There are 9 equipment rarities in total in Smithing Master: Common (gray), Excellent (green), Elite (blue), Epic (purple), Legendary (orange), Mythical (yellow), Extraordinary (red), Supreme (pink), Peerless (multi-color).
What is the best equipment in Smithing Master?
The best equipment in Smithing Master is the Peerless rarity. You can get this type of equipment by increasing the level of Forging Avil and continuously forging new equipment.