Watcher of Realms is a captivating next-gen fantasy RPG that immerses players in an adventurous world of magic and power. As a tactical commander, you are tasked with the mission of saving the chaotic land of Tya by managing and collecting heroes from different races and factions, and strategically battling monsters and Ancient Gods. This game has it all: from user-friendly and deeply strategic gameplay to numerous chapters and gameplay modes.
Our Watcher of Realms guide covers the basics of the game to help beginners get a head start and progress faster throughout the game. Also, check out our Watcher of Realms tips and tricks for more in-depth strategies.
Watcher of Realms Gameplay Overview
The world of Watcher of Realms is vast and filled with surprises. The game's campaign, which is the main story mode, contains numerous chapters and stages to explore.
Your main objective is to defend the Soul Core crystal(s) by creating powerful teams of heroes (feel free to use our Watcher of Realms tier list) and placing them strategically on the game's tiles to hold your position against incoming monsters.
But there are a few other game modes and features, such as PvP battles and Raid crawling, that are available. All of them require certain chapters and stages to complete in the Campaign mode before you can access them, such as:
Arena – this is where you can compete against other players. It becomes available after completing Chapter 5, Stage 1.
Raid – includes various scenarios to earn resources like XP potions and Promotion Insignias. It becomes available once you clear Chapter 2, Stage 2.
Storyline – includes 18 chapters with numerous tasks that offer great rewards for upgrading your heroes. You can unlock it by clearing Chapter 2, Stage 7 in the campaign mode.
Guild – becomes available after clearing Chapter 3, Stage 6, and offers you the possibility to join groups of other players and challenge world bosses together, among many other benefits.
Gallery – a list of all heroes in the game. Requires Chapter 2, Stage 12.
Quests and Hero Summon – a series of daily, weekly, monthly, and challenge quests that you can complete to earn fantastic rewards. They become available after clearing Chapter 1, Stage 9 along with the hero summoning feature.
The starter hero
Your journey in this game begins with a mysterious character named Xelsious offering to help you on your quest by giving you three heroes for free. Although only the first hero can be summoned right away, you will have the opportunity to recruit two more heroes (stronger) on days 3 and 7. The hero is called Voltus, a decent rare mage hero to start with, but you may want to save your resources to upgrade better ones.
Primary resources, currencies, and their uses
Your entire game progression will rely on the resources and currencies available in Watcher of Realms. These essential items are deposited directly into your storage, while some of them are also displayed at the top of the screen Diamonds, Gold, and Stamina.
To access your storage, press the 3 horizontal lines at the top, and git "Storage" in the drop-down menu. Here is an overview of all the primary resources and currencies in the game:
Diamonds – the most valuable currency in Watcher of Realms. It can be used to buy rare items or exchange them for other currencies.
Gold – a common currency with multiple uses but mostly for enhancing gear and upgrading hero skills. You can get it from campaign stages, the shop, and Gold Raids in high difficulty.
Stamina – a resource that generates over time and is consumed while playing the game
XP potions – required to level up heroes. Can be earned from campaign stages, missions, and certain events.
Promotion Insignias – required to promote heroes. Can be obtained by completing Insignia Raid stages
Rare Summoning Crystals – can be used to summon heroes of all rarities (epic and legendary have a very low drop chance). You can get these from Shop, Raids, beginner's perks, and certain event tasks.
Legendary Summoning Crystals – similar to previous crystals but will only drop epic and legendary heroes. There are better chances as well.
Skill Dust – required for upgrading hero skills.
Guild Coins – obtained by participating in Guild Quests and can be used to purchase various items in the Guild Shop.
Upgrading and promoting heroes
We won't get into too much detail here as we will cover all the info related to Watcher of Realms heroes in a separate guide, but here are a few basics to get you started. As we mentioned, there are over 100 unique heroes in Warcher of Realms, each with their own unique skills, talents, and special abilities.
To collect these heroes, you must use the Summoning feature in the game which requires either Rare Summoning or Legendary Summoning crystals.
Heroes are also divided into 4 rarities – Advanced, Rare, Epic, and Legendary. The weakest hero rarity is Advanced (the green one), while the strongest hero rarity is Legendary (the orange one).
Once you get a few good rarity heroes, you should upgrade and promote them to make them even more powerful. For that, you need XP potions, Promotions Insignias, and Skill Dust. The main benefit of promoting heroes is that it increases their attack range, which means they will cover more tiles in combat.
Awakening and equipping Artifacts and gear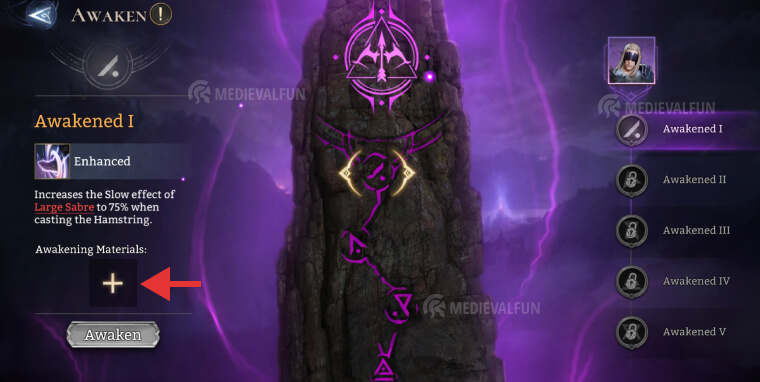 Your heroes can be further strengthened by awakening and equipping them with powerful gear and artifacts, and awakening them. Awakening increases their stats and improves the hero's abilities and requires consuming identical heroes obtained through summoning.
Probably the most efficient way of gaining power in Watcher of Realms is by equipping your heroes with certain gear pieces. The gear pieces belong to various gear sets, and if you equip your hero with more than one item of the same set, you gain special bonuses and stats.
The last method to make your heroes stronger is by equipping them with special artifacts. However, to access the Artifact feature, you must first complete the Campaign's Chapter 2, Stage 12 on Hard mode.
How to dismiss heroes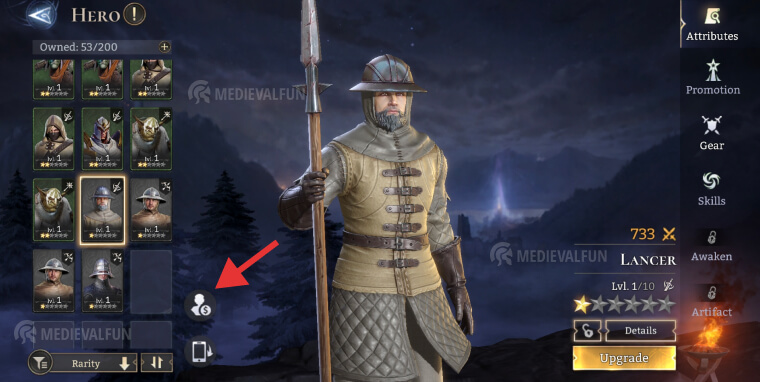 As you advance in the game and use more and more Summoning Crystals, your collection of heroes will expand. Eventually, you may find yourself with more heroes than you need or with some that just don't fit into your strategy.
In any case, the ones you should always consider selling/dismissing are the gray ones (1 star) and the green ones (2 stars) because they are the weakest heroes in the game, with the lowest stats and least powerful skills.
When you dismiss 1-star and 2-star heroes, you get Gold, whereas 3-star heroes can be sold for Diamonds. To sell a hero, you must first remove its gear, otherwise, it won't work.
To dismiss heroes, access your list of heroes by tapping "Heroes" at the bottom of your screen, pressing any hero, and then tapping the "user + dollar sign" icon as seen in the image above. Next, select any heroes you want to dismiss and hit "Dismiss".
Battle system and strategies
The battle system consists of strategically positioning your heroes to be able to defeat all the incoming enemy waves and stop them from reaching the magic crystal(s). This means proper placement based on their classes and attack types.
For instance, defender-class heroes can only attack ground units and should always be placed in front or on the same line as fighter-class heroes. Healers, Marksman, and Mage heroes should always be placed behind the frontline heroes to provide them with healing, long-distance support, and additional damage.
You must also pay attention to their skills as some heroes have both, active and passive skills, and the active ones must be triggered manually once they are fully charged (your hero gets highlighted once that skill is ready).
Rewards and Achievements
The game offers numerous rewards for completing daily quests, clearing campaign stages or raids, and collecting the daily free beginner's perks. But another interesting feature is the Achievements, which also offer unique valuable rewards.
You can access this via your profile page and you will notice that the achievements are divided into 4 categories – Battle, Collection, Development, and Events. Make sure to check this regularly and complete as much as you can to get those sweet rewards.
The easiest way to get a nice chunk of items and resources, however, is by redeeming Watcher of Realms codes and collecting the various free rewards that the game offers.
Additionally, the game also offers seasonal events which grant players special rewards for completing specific tasks during a certain time period. This is a great way to get your hands on some powerful artifacts, skills, runes, boosts, and more.
The Dwarven Association shops and their benefits
The Dwarven Association is another excellent way to get great items and resources to help you progress in the game. You can access it via the home page by pressing the piles of suitcases near that dwarf character.
There you will find 4 types of shops – Black Market, Guild Shop, Arena Merchants, and Awakening Shop, and each of them requires its own currency to buy items. Here's an overview of what they offer:
Black Market
The Black Market shop refreshes the items every hour but you can as well refresh the list of items with Diamonds by tapping the "Refresh" button. The items in this shop can be purchased with gold or diamonds.
There are 3 categories of merchandise in this shop: Items, Heroes, and Gear, and most of them are offered at a discounted price. Although the number of items is limited in the beginning, you can permanently unlock more items with Gold.
Guild Shop
This shop becomes available after joining a guild, and you need Guild Coins to buy items in this shop. The coins can be obtained from completing guild quests and the items in this shop may include Legendary Psychic Power, Summoning Crystals, and Divine Artifact Fragments, among many others.
Similar to Black Market, the majority of slot offers are locked but you can unlock them by increasing your Guild level. Unlike Black Market, Guild Shop cannot be refreshed manually and it will refresh automatically once a week.
Arena Merchants
The Arena Merchants shop includes powerful items related to upgrading heroes and requires Arena Coins. In this shop, you can find items like Skill Crystals, Artifacts, Summoning Crystals, Stamina, and many more. Just like the previous shop, you need to reach certain ranks to unlock more offers.
Unlike the other two shops, here the items refresh individually at certain intervals and cannot be refreshed manually. The entire list of items also refreshes automatically at the end of each season.
Awakening Shop
Lastly, we have the Awakening Shop. This is a special type of shop that requires specific currency called Awakening Tokens, which you can get by dismissing rare, epic, or legendary heroes. The advanced heroes (the green ones) do not give any Awakening Tokens.
An interesting fact about this is that the heroes obtained via the Hero Fusion, offer fewer Awakening Tokens, so you should think twice before fusing heroes. The Awakening shop includes rare items such as Hero Soulstones and is refreshed every 2 weeks. It cannot be refreshed manually.
Final Words
So that's it for our beginner's guide to Watcher of Realms. We hope this will help you on your journey to becoming a master commander. Be consistent by creating your own daily routine and using most of your resources. Good luck!
---
Watcher of Realms Beginner's Guide FAQ
Is Watcher of Realms pay to win?
Not if you don't want it to be. The game is designed in a way that allows players to progress and enjoy the same content without having to spend money. But if you don't have the time to grind, then you may want to consider taking advantage of certain advantages offered by in-game purchases.
How to find the server ID in Watcher of Realms?
Your server ID or realm ID is displayed in brackets at the end of your user ID. This can be found on the Player Profile page below your nickname. On the same field you will find as well your total BP and the name of your guild.
Is Watcher of Realms available on PC?
Yes, Watcher of Realms is available on PC as well and we created a step-by-step tutorial on how to install it and link your account.
How to delete my Watcher of Realms account?
There is no option to delete your account but you can start a new account by visiting Settings > Account Settings and pressing 'Create Account'. Once you finish the tutorial, go to the same page and press any of the 3 options under 'Account Connection' that you used to link the previous account. Alternatively, you can link the new account to another Google account and switch between them.
Why the dismiss hero icon is not visible?
If you cannot see the icon to dismiss heroes, try progressing further in the campaign mode.
Can Watcher of Realms be played offline?
No, unfortunately, Watcher of Realms requires an active internet connection to play the game.
How many Campaign stages are there in Watcher of Realms?
The Campaign mode has 94 stages so far, spread across 8 chapters, each with its own unique challenges and rewards.
Is it possible to play Watcher of Realms with friends?
Yes, you can play Watcher of Realms with friends or other players from around the world via a Guild or through the Arena mode.