Pirate Ships is a thrilling mobile game for anyone looking for a pirate adventure. You can build and customize your own pirate ship, equipping it with cannons and other equipment to make it the most powerful battleship on the seas.
Once ready, you can take command of your vessel and battle against online players or defeat AI enemies in a campaign mode full of exciting Caribbean adventures.
But for most new players, getting a grip on the game rules can be tricky. This is why we have put together a guide that includes helpful Pirate Ships tips and tricks to help you get ready for the ultimate pirate experience.
Pirate Ships Guide, Tips and Tricks
Pirate Ships Gameplay Overview
Pirate Ships: Build and Fight features an automatic battle system with easy-to-understand controls and in-depth ship management. However, this does not mean you are a passive bystander; you will have to build an effective strategy, combining the right ship and equipment to defeat your enemies.
As you progress, you can upgrade your ship with stronger items, and you need to constantly upgrade your equipment. It's a bit repetitive in the early stages but it will soon become a thrilling battle of wits and strategy. If you are a fan of pirate movies and games, this is definitely one you should check out!
Earning and managing resources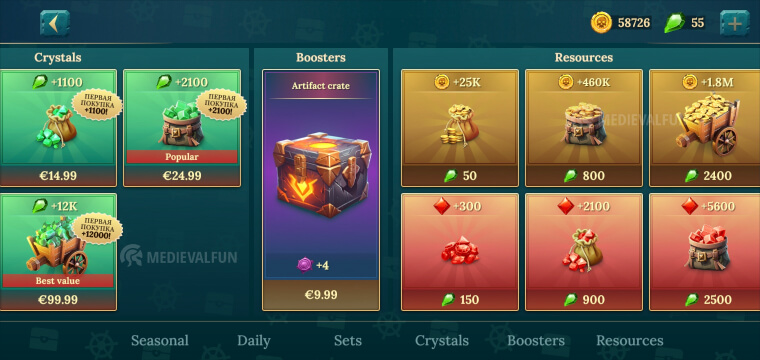 The primary currency in Pirate Ships: Build and Fight game is known as 'Gold'. It can be earned by completing daily quests, winning battles, or claiming rewards. Gold can also be used to buy upgrades for your ship and equipment. But there are other currencies and resources such as:
Crystals – Rare currency of the pirate world, with multiple uses. You can get them from opening the Rare chest from winning multiple nattles in a row, and from daily tasks
Runes of Change – Used to change the legendary abilities of your equipment. Can be obtained in chests for victories in the Skirmish
Runic Shards – This currency can be used to change common equipment abilities. Can be obtained from chests
Captain's Rubies – These rare runies are used to buy and upgrade captains in the game. Can be found in the story campaign.
Upgrading your best equipment
The first step to gaining power and increasing your chances of winning battles is to upgrade your equipment. You can do this by visiting the equipment tab and tapping a piece of equipment you want to upgrade.
The ones you can upgrade will have an arrow pointing upward; tap it and pay the gold price. But before you proceed, make sure you upgrade your best equipment based on your desired strategy, speed or more power.
Unlock and assign new captains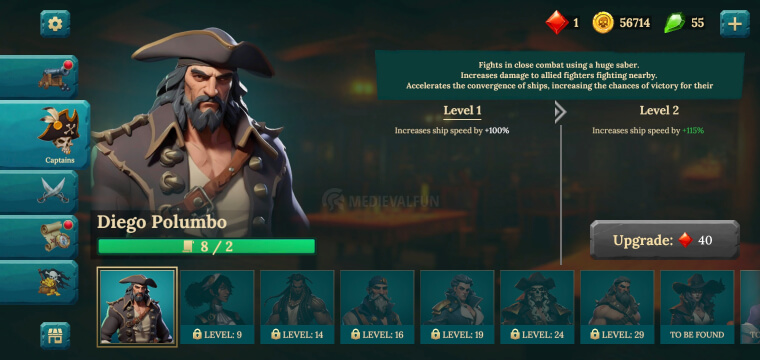 Using one of the best captains for your ships can also have a major impact on your success in battle and your overall progress in the game. Unfortunately, they are not that easy to unlock. Each additional captain in Pirate Ships requires a higher level to reach first.
This can be done by winning PvP fights or playing the campaign mode. You do have the option to buy some captains in the shop with real money, but unlocking them is much more rewarding. Once you have unlocked the captain of your choice, assign it to a ship and reap the benefits.
Additionally, make sure you upgrade your favorite captain once you have gathered the required number of Captain's Rubies. This will increase his stats and bonuses, which can make a huge difference in the long run.
Tactics to winning battles
The secret to winning battles in Pirate Ships is to use the right combination of ship and equipment. Before you join a Campaign battle, it's important to analyze your opponent's ship and see what type of crew and equipment he has.
For instance, if he has mostly sword fighters and a few light shields, you can easily outsmart him with a small but fast ship that is equipped with Bombards and Cannoneers, and Shooters or Snipers. Don't forget to place a shield in front of each of your members to protect them from enemy fire.
By using this strategy, you will be able to outlast your opponent and come out as the victor! Unfortunately, in PvP fights you cannot preview your opponent's ship, so you will need to be more creative when building a strategy. But the combination we mentioned earlier worked like a charm for us in the early stages of the game.
Complete Daily Missions
Daily missions are a great help for beginners in Pirate Ships. By completing them, you can earn coins, experience, and other rewards that can be used to upgrade your ship or equipment. Make sure you complete them every day before they expired as any unclaimed rewards will be cleared.
And while you are there, take a look at the Achievements tab and start completing the easiest ones first so you can get a nice number of coins and crystals.
Defeat pirate bosses in the Campaign mode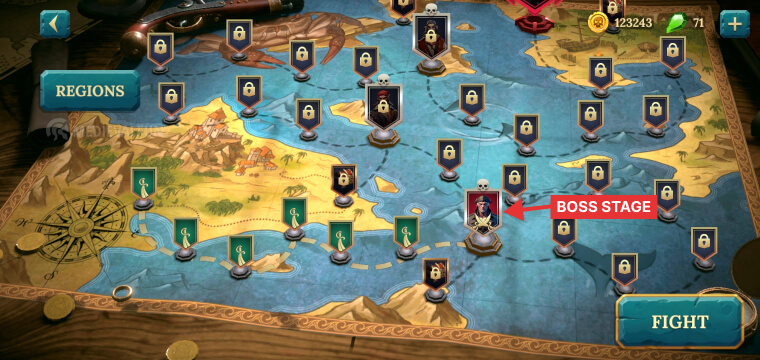 For some reason, the first stage of the campaign is quite difficult to complete. But don't get discouraged; once you find the right setup for your ship, the next several stages are much easier.
The campaign is a great way to earn valuable rewards. Plus, you get Captain's Rubies for each Campaign mission you complete, which can be used to upgrade your captains. However, make sure you are well prepared for the boss stages as they hit hard, but the rewards are also better.
Test your skills against other players
Once you are confident enough, why not take on other players in the PvP battles? You will need a more advanced ship setup to survive against skilled players. Luckily the first league is relatively easy because most players are not yet at an advanced level and the rewards are great.
But as you progress through the leagues, the battles will become more challenging but also with better rewards. Each victory in the PvP mode gets you higher on the leaderboard, which results in additional crystal and ruby rewards.
More importantly, make sure you win at least 3 consecutive battles to get the chest reward. This will give you a nice amount of crystals and rubies which can be used to upgrade your ship.
Keep an eye on the Progress tab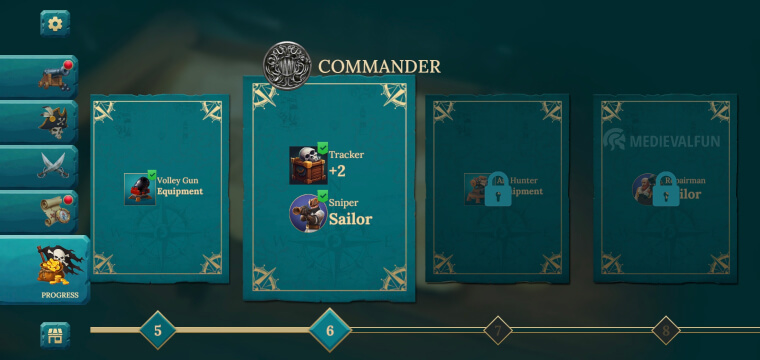 The progress tab is a great way to track your progress and preview the upcoming rewards and features as well. This will show you all the features included with each level you unlock such as new crews or captains or better equipment. The preview list goes up to level 37, at which point you will get a special reward of 50 Crystals and 50 Rubies, so keep that in mind when grinding.
Explore the Shop's benefits
Finally, don't forget to check out the shop where you can buy special items with Gold, Crystals, and other resources. This includes powerful equipment, unique crews, and captains, or if you want to save time, some of the items can be purchased with real money.
Fortunately, there are a few freebies as well that you can collect every day. One of them is located under the "Sets" tab which gives you 5 Crystals and 5 equipment fragments every 12 hours. The shop is constantly being updated with new and more valuable rewards so make sure you come back often for better deals.
Final Thoughts
If you follow these tips, you should become a skilled pirate in no time and be able to take on the toughest enemies out there. So start building your Pirate Ship now and get ready for some thrilling battles! Good luck, Captain!