Tailed Demon Slayer RISE is an epic idle RPG game full of adventure and thrilling battles. The game offers a unique experience of exploring a fantasy world of knights, fox heroes, and mythical creatures. But to succeed in this game, you must have a good strategy and know its secrets.
In this Tailed Demon Slayer RISE guide we provide an overview of the game's features and share some essential tips and tricks on how to start the game, build up your character and progress faster through the levels.
Tailed Demon Slayer Rise Guide, Tips and Tricks
Tailed Demon Slayer Rise gameplay overview
In Tailed Demon Slayer RISE, you take on the role of a Fox Beastman, entrusted with saving their people from a wicked curse unleashed by a Dark Mage.
The game features visually stunning battles with special skills and effects as you experience never-ending adventures even when offline through the idle reward system.
You must constantly increase your hero's power through strategic battles, resource gathering, and help from mythical creatures. In addition, you can equip your character with special costumes to showcase your unique style which also boosts your damage output.
Prioritize the main in-game currencies
Gems – The most valuable currency in Tailed Demon Slayer Rise. Can be used to buy different items in the game such as equipment or Fairy summons. You can get gems from clearing Gem Cart dungeons, completing quests, and from the battle pass, daily goodies, and the shop.
Gold – the second most essential currency in the game and is required for your hero's training upgrades. Can be obtained by clearing the main stages, the Gold Template dungeon, and offline rewards.
Skill Scrolls – these are required for upgrading your weapon skills and you can get them in the Great Library of Charrisseum dungeon.
Costume Summon Tickets – required for summoning costumes for your hero
Soul Fragments – required currency for summoning monsters
Guardian Elixirs (Flame, Ice, and Lightning) – these elixirs are used to get blessings from the 3 guardians: Jujak, Hyoryu, and Qilin. Can be obtained in main stages and from offline rewards.
Dungeon Tickets – each dungeon run in Tailed Demon Slayer Rise requires 1 ticket. You can get tickets from Daily Goodies, Meditation, Battle Pass, and the in-game Shop.
Elemental Stones (Flame, Ice, and Lightning) – these special stones can be used to upgrade your hero costumes and can be collected from Elemental Caves dungeons.
Gather gems for large summons
As I mentioned previously, Gems are the most vital currency in Tailed Demon Slayer: RISE because they can be used to summon equipment and costumes for your hero. This will enhance his power, which is essential when fighting against powerful monsters or other players.
Gems can be gathered in several ways but the most common way is to complete daily quests and missions. You can as well get gems from clearing Gem Card dungeon levels, collecting offline rewards, and the shop's free offers.
However, we found that the Pass rewards offer the largest amount of Gems. You can access this page by pressing the "Pass" icon visible in the upper-right corner of the main screen.
There you will find 4 mini-tabs: Hunting Pass, Stage Pass, Level Pass, and Summon Pass. Make sure you check these tabs frequently and collect all the Gem rewards by pressing the "Receive all" button.
Equip and level up costumes to gain power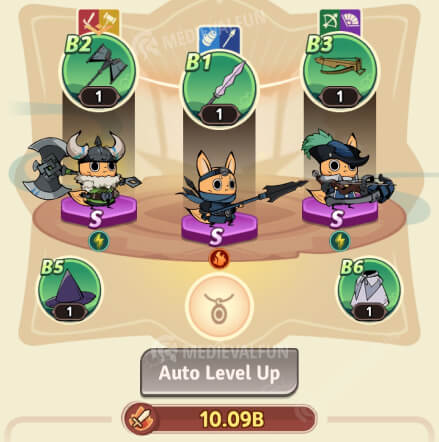 Costumes are probably the most important part of your character's equipment because they provide huge stat bonuses, which can make a major difference in the outcome of battles. You will be able to acquire costumes via the summons tab after completing Guide Mission number 57.
They are divided into 3 main categories: Melee, Mid-Range, and Long-range, and each of these 3 include 2 types of costumes, each offering a certain weapon effect, which is also related to the type of the equipped weapon.
Melee costumes include a Rapier or a Hammer effect, Mid-Range costumes a Gatling-Gun or Spear, and Long-Range costumes a Crossbow or Hand Fan weapon effect. Choosing the best Tailed Demon Slayer RISE costumes in accordance with your hero's weapon types is the key to success, as they will dramatically increase his stats and damage dealt.
Focus on completing Guide Missions
Aside from advancing in the campaign's stages, you should also focus on completing Guide Missions. These tasks are displayed in the lower-right side of the main screen and all you need to do is to tap them as seen in the image above, and it will automatically redirect you to that specific task.
These missions are vital to your progress in the game because the more you complete the more features and game modes will be unlocked.
Moreover, each Guide Mission rewards generous amounts of Gems, currencies, and rare items, so make sure to always check them and complete as many of them as possible.
Constantly activate the Clover Buffs
As a beginner to Tailed Demon Slayer: RISE, you should take advantage of your character's unique Clover Buffs. These buffs can be activated instantly for the first time by pressing the 4-leaf icon in the upper-left corner.
There are 4 main buffs that can be activated up to 10 times a day and last for 30 minutes each offering a significant boost in ATK damage, Max HP, Gold drop, and Boss DMG.
Once you activate all 4 buffs, the 5th buff called "Game Speed" will be triggered and as the name suggests, it will speed up the game's overall playtime. All of these buffs are free and can be activated daily, so make sure to always take advantage of them!
Use your Guardians strategically
As you progress through the game, you will unlock via the Sky Island 3 mighty Guardian characters: Jujak, Hyoryu, and Qilin, which can help you in challenging battles.
Once unlocked, these Guardians can be equipped to your main hero (as seen in the above screenshot) and if used correctly they can offer some great bonuses in terms of stats and damage dealt.
As a great tip of advice, try to use your equipped Guardian once at the beginning of a stage and once in the boss fight.
Although you have the option to activate it automatically, the same as the costumes, we do recommend that you use it manually as the Guardian's skill needs time to recharge and you may not be able to use it in the boss stage.
Summon various items efficiently
The Summon tab is the place to go if you need more equipment, fairies, monster cards, or costumes. Some of them such as the equipment tab can even offer 5 individual free daily summons a day, which every new player should take advantage of.
But if you want to increase your chances of getting better equipment or costumes, it is recommended to always the highest summon option available. This means that you should save your gems, Soul Fragments, or Costume Summon Tickets until you have enough to use the highest summon option, whether is 5, 10, or 30.
Make use of the Sleep Mode
The Sleep mode is a unique feature, one that I haven't seen in any idle RPG game so far. This is basically an energy-saving mode that activates after being idle in the game for a few minutes. All you see is a black background and the total number of collected items, defeated enemies, and the current stage number.
This mode is very useful if you're playing with your device on low battery, or if you simply want to keep playing for a bit longer without having to constantly check the game.
As soon as you become active again, the game will resume automatically from where it left off. So make sure to take advantage of this unique and highly useful feature!
Complete quests for extra rewards
The Daily and Repeat quests are also a great help for any beginner. Each quest you complete will offer you a certain number of Gems, which can be very useful when trying to summon certain items.
Additionally, the Daily Quests tab includes 3 more gem rewards visible at the top of the page, 300, 700, and 1,000 gems. Each of these rewards requires a certain number of daily quests, up to a total of 12. Make sure you complete them all every day as this will help you a lot during your adventure.