In White Out Survival we have two choices when it comes to upgrading our city instantly – either using Speedups or Gems. However, Gems are more valuable because they can also be used to purchase various items in this game.
Whether you upgrade buildings, train or heal troops, or research new techs, this precious currency can save you lots of time. In this guide, we will show you how to get more Gems in White Out Survival, and how to spend them wisely.
Where to Spend Gems in White Out Survival?
There are numerous ways to spend Gems in White Out Survival, but the two most effective are to speed up the upgrade process of the Furnace and upgrade your VIP level.
The Furnace is the most important structure in your city because is directly related to your city's level and power. The higher the level, the more features and buildings become available.
The VIP level, on the other hand, unlocks exclusive rewards and great buffs for your city. These buffs will help you get more resources faster, making it a worthwhile investment.
How to Get More Gems in White Out Survival
1. Get a +90% Chief's Approval Rating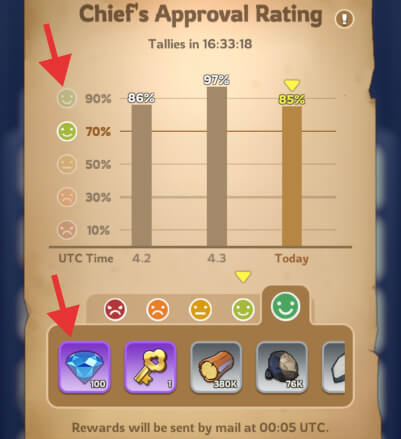 Chief's Approval Rating, the feature provided by the Suggestions Box, can give you a nice, constant income of Gems. But there's a catch – you have to get a +90% approval rating from your survivors.
There are 5 rating tiers, but only the fifth one offers gems, among resources and other items. Each day, your rating increases or decreases depending on what decisions you make based on the suggestions or complaints received from your survivors.
If you manage to get a +90% approval rating, you will be rewarded with 100 Gems, delivered in your in-game mail.
---
2. Follow White Out Survival on social media
White Out Survival rewards you with free Gems for the time and effort spent on their social media pages. Follow them on Facebook or Discord, and you will be instantly rewarded with 500 Gems.
This way you can also be the first to know about upcoming events, new game modes, or other free in-game items.
Keep in mind that you must do this via the Community tab's button from the Events page, or else you won't get the reward.
---
3. Put your Gems into Bank
This is the first time I see such feature in a mobile strategy game, and is quite useful. The Bank provides you with an option to store your Gems safely and earn returns over time, ranging from 0.7% to 5%.
This means that the deposited Gems will be locked for the entire period of your chosen option, and you will receive additional gems on top of the deposited ones.
This is an effective way to passively earn more Gems, as long as you don't need them during the period selected. There is however a deposit limit and the amount you get in return, based on the chosen option.
To access the Bank feature, tap "Deals" on the top-right corner while inside your city, and swipe left over the tabs located at the top until you see the Bank tab.
---
4. Get Contribution Ranking Rewards
A White Out Survival Alliance brings numerous benefits that will help you progress faster in the game. One of the benefits of being a member of an Alliance is the chance to get additional Gems from the Contribution Ranking Rewards.
This leaderboard ranks all the members within your alliance based on how many times they have donated resources to alliance tech research.
On this page, you will find 2 tabs, one with the rankings and potential rewards for daily donations, and one with the rewards for the entire week.
As you can see in the above screenshot, whoever qualifies as number one at the end of the day, will receive 300 Gems. Similarly, the Weekly ranking offers 1,500 Gems for the first place, 1,000 for the second, and 500 Gems for the third place.
The higher your rank is, the more valuable rewards you will receive, which means more Gems that you can use to make your heroes stronger. There are also more tiers but the rewards decrease significantly. Therefore, make sure you donate multiple times a day to rank higher and get better Gem rewards.
---
5. Climb the Arena Leaderboard
This feature is quite similar to the contribution ranking rewards, but way more competitive. That's because you are competing not only with your allies but with all players on your chosen server.
The rules to qualify on this leaderboard are straightforward – get as many points as you can in the Arena each day and try to make it on the top 100 for the daily ranking, or the top 1000 for the entire season.
It is also recommended to participate daily, so you can rank higher for the Season rewards. Speaking of which, even if you qualify among the +1001 players, you still get 200 Gems. However, the higher you rank, the better the rewards will be.
The number one spot for Arena Daily rewards, offers 1,500 Gems, while the first spot on the Season rewards, gets 10,000 Gems, followed by 8,000 for the second spot, and 7,000 Gems for the third spot. Make sure to check the leaderboards regularly and give your best to climb as high as you can.
---
6. Join or create rallies to defeat creatures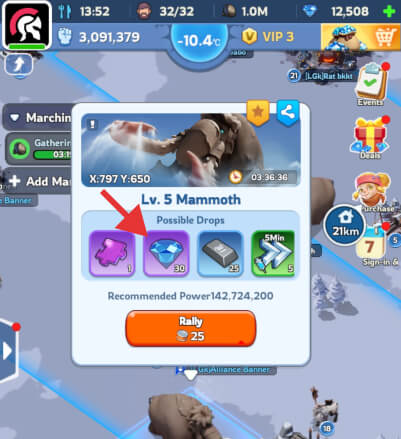 One of the major benefits of being an alliance member, besides the fact that you can get useful White Out Survival tips and tricks from more experienced players, is the rally feature. You can create or join rallies created by other members to defeat powerful creatures on the map and be rewarded handsomely.
Although the rewards may vary after each battle, you can participate multiple times a day to increase your chances of obtaining Gems.
For example, a Mammoth level 5, can drop 30 Gems, which is not much but this can be extended with other rewards from specific events or daily missions.
If you do choose to create the rally, make sure you have upgraded the Command Center as high as possible. This allows more members of your alliance to join your rally.
---
7. Claim Monument Goal Rewards
The Monument structure in your City provides a series of challenges that need to be completed before a certain deadline.
The majority of these challenges are at a server level, so all players can join and contribute to the goal. There are, however, a few alliance-related tasks where you and your allies must join forces to complete them.
Each goal that is completed awards you and your allies with valuable rewards, including a fair amount of Gems ranging from 100 to 1,000 Gems per completed goal. That being said, you should keep an eye on the Monument page and claim the rewards as soon as a goal is completed.
---
8. Keep an eye on the Event Calendar
The White Out Survival game is constantly bringing new events, with some of them offering generous amounts of Gems in exchange for completing certain tasks.
These can be anything from attacking other players to building structures. Make sure you visit this page regularly so you can stay informed of all the upcoming events and their rewards.
You can visit it by tapping the "Events" icon on the top-right corner and selecting the "Calendar" tab.
---
9. The Growth Fund Premium Pack
Although the free methods listed above can help you get a decent amount of Gems, the Growth Fund pack is your most reliable option for obtaining a large number of Gems, if you are willing to spend some money.
This pack can be purchased from the store and is one of the premium packs that offer the best value for your money.
It comes with a total of 250,000 Gems, spread across 12 tiers. These tiers are related to your Furnace level and can be completed starting from Furnace level 6, at which point you get 2,000 Gems.
The amount you get increases with each challenge and goes up to 100,000 gems for Furnace level 30. Although the pack once purchased, does not have an expiration date, the faster you level up the Furnace, the better.
---
10. The Construction Queue Premium Pack
The last method on our list for obtaining Gems in White Out Survival is the Construction Queue Premium Pack. Same as the previous pack, this is also a premium one that can be bought from the in-game store. This pack will unlock the second building queue permanently, and offer you 1,500 Gems, among other items.
Final Thoughts
It's important to note that the last two premium methods are optional, and we are not affiliated in any way with these purchases or the company behind this game. We simply recommend them as an option to obtain Gems at an accelerated rate, if you are willing to invest some money.
We hope this guide helped you understand how to get Gems in White Out Survival, so you can progress faster in this amazing mobile game. Good luck!