Clash of Clans has set the benchmark for strategy-based and tower-defense games ever since its release in 2013. It features a unique mix of real-time strategy, combat, and collectible elements, offering a wide range of features that let you build and customize your own village, raise a clan, and compete in epic clan wars.
Although the game is still popular, there are many other games that feature similar gameplay. This article looks at some of the best games like Clash of Clans, all with their own unique twists on the genre for you to explore.
Clash of Clans Game Info
| | |
| --- | --- |
| Release Date | August 2, 2012 |
| Publisher(s) | Supercell |
| Genre(s) | Cartoon, Strategy, PvP, City Building |
| Platform(s) | Android, iOS |
Games Like Clash of Clans
17. Kingdom Rush – Tower Defense TD
Our first recommendation for any Clash of Clans enthusiast is Kingdom Rush. This game offers a great mix of strategy and tower defense battles that will surely keep you entertained for hours. You will be the commander of a mighty army, using various towers and heroes to protect your lands from enemy attacks.
In each battle, you will have certain objectives and points along the road to protect, so you'll need to use your best defense strategies to stay ahead of the game.
But worry not – you will be greatly supported by troop reinforcements, unique towers such as Archers, Barracks, Mage Guilds, or Artillery, and powerful heroes with unique abilities.
While its cartoon-style graphics may not be everyone's cup of tea, the game itself can be extremely addictive and engaging for those looking for a Clash of Clans alternative.
Release Date: May 15, 2013
Developers: Ironhide Games
Platforms: Android, iOS
---
16. Stormshot
Stormshot is a captivating real-time strategy MMO game that takes you to the mysterious world of pirates and hidden treasures. It mixes classic strategy mechanics with modern puzzle elements to offer an unparalleled gaming experience.
You will embark on a captivating adventure across 300 different levels of ricochet-based puzzles, while also building your kingdom with powerful heroes and various units.
As you explore the misty islands, you'll encounter mysterious ghosts and fierce sea monsters that will require strategic planning to defeat. Similar to Clash of Clans, Stormshot also offers PvP battles with other players, where you can form powerful alliances and strategize to win.
Release Date: Sep 9, 2022
Developers: FunPlus
Platforms: Android, iOS
---
15. Heroes of the Dark
Heroes of the Dark has become of my favorite mobile games lately. It takes the classic RPG formula and adds a unique Victorian twist, creating an immersive world full of mighty heroes from three distinct factions: Werewolves, Vampires, and Humans.
My favorite part of the game is the castle building. Although the concept of city development is the same as in Clash of Clans, here you get to unlock and upgrade various chambers and parts of the castle instead of upgrading various buildings as you would in CoC.
The modern graphics with its spooky horror theme make it even more enjoyable. You can as well take part in PvP battles to prove your tactical skills or join a guild of other players for cooperative play.
Release Date: Oct 26, 2021
Developers: Gameloft SE
Platforms: Android, iOS
---
14. White Out Survival
White Out Survival is another great strategy game like Clash of Clans. It features a post-apocalyptic world in which you must lead the last survivors of humanity to safety.
You will have to come up with unique strategies, assign roles to your survivors like hunter, cook, and woodcutter, upgrade the furnace and establish edicts in order to keep them safe from the icy blizzards, beasts, and bandits.
You can also gather resources, conquer the ice field with allies at your side, recruit powerful heroes, and develop technologies to rule the world!
Overall, White Out Survival is an incredibly fun and immersive game, and we highly recommend it if you're looking for a different strategic approach, but with all the same excitement from Clash of Clans.
Release Date: Feb 9, 2023
Developers: Century Games
Platforms: Android, iOS
---
13. Wild Sky
Wild Sky is one of the most entertaining games like Clash of Clans in terms of strategic tower defense gameplay! It takes you to an exciting medieval fantasy world, filled with mysterious creatures and ancient civilizations where you will need to hold your ground against enemy waves and tough bosses.
You will have to deploy your heroes, and towers strategically, and use spells to defeat your opponents. Wild Sky is also a great game to play with friends, or other players from around the world by joining a guild. We really enjoyed this one!
Release Date: Jul 23, 2019
Developers: Funovus
Platforms: Android, iOS
---
12. Viking Rise
Viking Rise is an exciting multiplayer strategy game, set in the world of Midgard. In this game, you become the leader of your Viking tribe and lead them into battle against other players from around the world, or neutral enemies and mythical creatures.
From forging alliances to building and protecting villages and cities, you must strategize and build your empire in Valhalla. You can also sail across the seas and use naval combat to seize strategic territories, as well as summon workers and legendary heroes from Norse mythology into battle.
Viking Rise is similar to Clash of Clans in that it combines strategic battles with city-building and base management. Plus, the stunning visuals and original soundtrack makes this game even more immersive and entertaining.
Release Date: Dec 22, 2022
Developers: IGG
Platforms: Android, iOS
---
11. Pocket Quest
Pocket Quest is a simple yet engaging game where you can create your own unique world and battle monsters. The battles are fast-paced and automatic – your hero will regularly face various enemies of different levels and abilities.
Although some enemy bosses can be quite a challenge even from the very beginning, you can collect and equip powerful gear and pick new traits to become stronger. You have as well the option to construct and upgrade new buildings in the Camp section, which will also help you in your battles.
Release Date: Jun 24, 2022
Developers: Funovus
Platforms: Android, iOS
---
10. Game of Empires: Warring Realms
Game of Empires offers a unique blend of strategy and adventure, perfect for those looking to build their own empire. The game is set in a medieval world filled with barbarians, ancient secrets, and a wide variety of civilizations to choose from. You have the freedom to create your own alliance and engage in PvP battles against other players.
The game also includes a large collection of legendary historical figures like Julius Caesar, Joan of Arc, Vlad Dracula, Genghis Khan, and many other amazing heroes as we ranked them in our Game of Empires tier list.
Furthermore, you can explore the world and its many wonders and gather precious resources while gaining access to powerful technologies through research.
Release Date: Jan 17, 2023
Developers: EraTravelers Studio
Platforms: Android, iOS
---
9. Call of Dragons
Call of Dragons is an exciting strategy game that will have you hooked right away. Created by Fairlight, the same team that created Rise of Kingdoms, this medieval-themed strategy game offers a refreshing fantasy world to explore.
You start your journey by choosing your faction, building your base, and commanding unique troops in battles against fearsome creatures like Darklings and Behemoths, as well as challenging PvP fights. There are also plenty of exciting events and daily tasks to keep you busy, all offering amazing rewards to help you become stronger.
Just like Clash of Clans, you can upgrade your buildings to make your kingdom more powerful and expand your territory. Additionally, you can master powerful hero abilities, train amazing units, and team up with allies to get more benefits.
Release Date: Mar 25, 2023
Developers: FARLIGHT
Platforms: Android, iOS, PC
---
8. Gods of Olympus
Gods of Olympus is all about strategy and power, focusing on the ancient Greek gods. The great thing about this game is that you fully control your units and deployed gods throughout the battle. It's pretty similar to Clash of Clans – you simply tap any spot or enemy target on the map, and your chosen gods, whether it's Zeus, Athena, or Hades will start attacking the enemy units and buildings.
The more victorious you are, the more resources like gold and stone you will collect and use to develop your city. Speaking of which, you have a vast array of buildings and defensive towers at your disposal.
Another great feature we really liked in Gods of Olympus is that all buildings are constructed instantly, which is quite rare nowadays for a strategy game like this. With all these features, Gods of Olympus is certainly a great game to play for strategy gamers looking for something similar to Clash of Clans.
Release Date: Sep 25, 2016
Developers: Aegis Interactive
Platforms: Android, iOS
---
7. Tower Brawl
In Tower Brawl, you get to experience a unique blend of tower defense, real-time strategy and card genres. It offers an exciting siege theme and lots of colorful heroes from different classes. You can strategically team up your heroes, similar to Clash of Clans, and upgrade them to be more efficient in battle.
As for the battle system, you can choose to fight alone or invite friends for co-op play, your main objective being to defeat your opponent's units and tower before yours gets destroyed. Quite a challenge!
Release Date: Sep 21, 2022
Developers: DOMO ZOO
Platforms: Android, iOS
---
6. Boom Beach
At its core, Boom Beach is a game quite similar to Clash of Clans, but it features a unique tropical island theme and much deeper and more intense strategy gameplay. And the best thing about it is that is developed by the same people behind Clash of Clans, so you know you're in for a treat.
Your journey in this game starts on an exotic, isolated island, and your mission is to build an efficient defense system to protect your base against enemy attacks. You'll be able to craft all sorts of structures such as Sniper Towers, Mines and Mortars, Cannons, and Flamethrowers, but also a vast range of support buildings and troops.
Likewise, your economy relies on precious resources that you must gather to support your upgrades. Overall, Boom Beach is an engaging and strategic game that will keep you busy for hours. It is definitely a must-play game for any fan of the Clash of Clans genre.
Release Date: Jun 16, 2014
Developers: Supercell
Platforms: Android, iOS
---
5. Rush Royale
If your Clash of Clans favorite part is the strategic tower defense combat, then Rush Royale is a great game to check out. You can collect various units to assemble your battle deck and merge them together to create powerful heroes with unique abilities.
It's a combination of TD game and card collecting, so you get the best of both worlds. Plus, you can join a clan of other players for more strategic play and amazing rewards to help you become stronger much faster.
Release Date: Oct 9, 2020
Developers: UPWAKE.ME
Platforms: Android, iOS
---
4. Plunder Pirates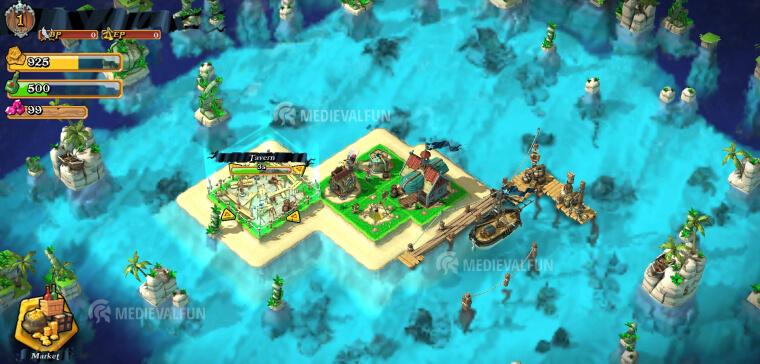 Plunder Pirates is definitely one of the best games like Clash of Clans. Although here we have an exotic pirate theme with rich graphics instead of a Norse medieval kingdom as we have in Clash of Clans, the game mechanics are quite similar. Your adventure in this game begins on a small island after facing a terrible storm and having everything destroyed.
You'll have to build up your island from zero with all kinds of marvelous buildings and defensive structures, recruit a crew from different classes of pirates, and go explore the seas, looking for treasure and fighting enemies.
Each new building you construct will not only expand your home island but also provide more resources and benefits that will help you become the most notorious pirate of all time. Plunder Pirates is an enjoyable, challenging game that any Clash of Clans fan should try.
Release Date: Dec 14, 2016
Developers: Midoki
Platforms: Android, iOS
---
3. Clash Royale
Clash Royale is another fantastic game similar to Clash of Clans, developed by the same creators. Not only is this fast-paced battle game full of exciting strategy and deck building, but it also features Clash of Clans characters!
The game puts you in the shoes of a master strategist tasked with defending your kingdom from enemy forces. Your top priority is to collect, upgrade, and deploy the right cards at just the right time to defeat your enemies and take down their towers. With a huge collection of cards ranging from troops to spells, you'll be able to create a deck to suit your style and dominate the arena.
Clash Royale also offers exciting seasonal events with challenging tasks and amazing rewards for those who are brave and skilled enough to compete. And if you need more support, you can join or create your own Clan with other players and go to war against other clans for bigger rewards.
Release Date: Supercell
Developers: Mar 1, 2016
Platforms: Android, iOS
---
2. Sky Clash
Sky Clash is one of the most enjoyable games like Clash of Clans we have ever played. This game not only has similar battle mechanics to Clash of Clans, but also brings a thrilling storyline. It is all set in a fantasy steampunk world with lots of places to explore and enemies to defeat. Is also quite unique in terms of its warfare system and theme – unlike Clash of Clans, here most of the battles take place in the air.
You will have to build various military structures like Military Factory, Laboratory, and Military Airport to develop your settlement and become more efficient in battles. You will be able to explore the map and fight Zorgs, or attack other players and loot valuable resources from being victorious.
At the same time, you will need to train troops and equip your airships with the best weapons, while also creating a prosperous economic system. All in all, Sky Clash is a great game similar to Clash of Clans but with an even more exciting story and atmosphere.
Release Date: Apr 28, 2017
Developers: Absolutist Ltd
Platforms: Android, iOS, PC, Mac
---
1. Castle Clash
If you are looking for an identical game to Clash of Clans, Castle Clash is the perfect alternative. With millions of players worldwide, you will be able to build up your base with a non-linear system, customize your heroes and buildings with a huge variety of skins, recruit battle companions, explore dungeons and so much more!
Your epic adventure starts in a fantasy world called Narcia, a world devastated by an ancient force, and you will have to build up your base and recruit heroes with extraordinary abilities to fight for your cause. Mana is the main resource in this game, and you will need lots of it to support your troop training and building upgrades.
The main goal is to become progressively stronger to resist (or attack) any potential PvE or PvP threat and be rewarded while doing so. There is no limit to what you can do in Castle Clash, so prepare for a never-ending battle of strategy and tactics!
Release Date: Jul 25, 2013
Developers: IGG
Platforms: Android, iOS, PC